PHARMASOULZ
A Mumbai based company providing consultancy and services to the health care industry and its professionals.

Established in 2014, PharmaSoulz provides excellence, quality and compliance in our services. Our work is based on a combination of knowledge and renowned expertise iproviding pharmacovigilance, medico marketing, medical writing and medical training services to the pharmaceutical companies.

THE FOUNDER
Dr. Rajani Rokade
- the founder of PharmaSoulz.
M.B.B.S, M.D Pharmacology
With over 13 years of experience in this field and having worked with companies like Sanofi India Ltd., Johnson & Johnson and Abott India Ltd., Dr. Rajani is an accomplished health care professional. Her work experience ranges from conducting Pharmacovigilance workshops for hospitals and healthcare professionals to holding the position of Head of Pharmacology.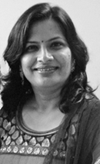 SERVICES
PHARMACOVIGILANCE
MEDICO-MARKETING
MEDICAL TRAINING
MEDICAL WRITING

© Copyright PHARMASOULZ 2014